Product Description
Heavy duty Gearbox transmission bolting Rafted rollformer

Heavy duty Gearbox transmission bolting Rafted rollformer can produce the steel friction rock bolts for sizes of 33mm(1-19/64").35mm(1-3/8").39mm(1-1/2").46mm(1-13/16"), thickness with 2mm-4mm. also with the steel bolts necking, and metal bolts notching. The steel bolts are with high strength steel and avaiable in different diameters and length, and available for using in corrosive environments. The friction rock bolts are made from high strength steel, such as HSLA 60. The friction bolts are available in galvanized steel and stainless stell, increasing capacity for prectecting from corrosion.
Heavy duty Gearbox transmission bolting Rafted rollformer is designed with gearboss transmission, high capacity, 1000 feet per minute.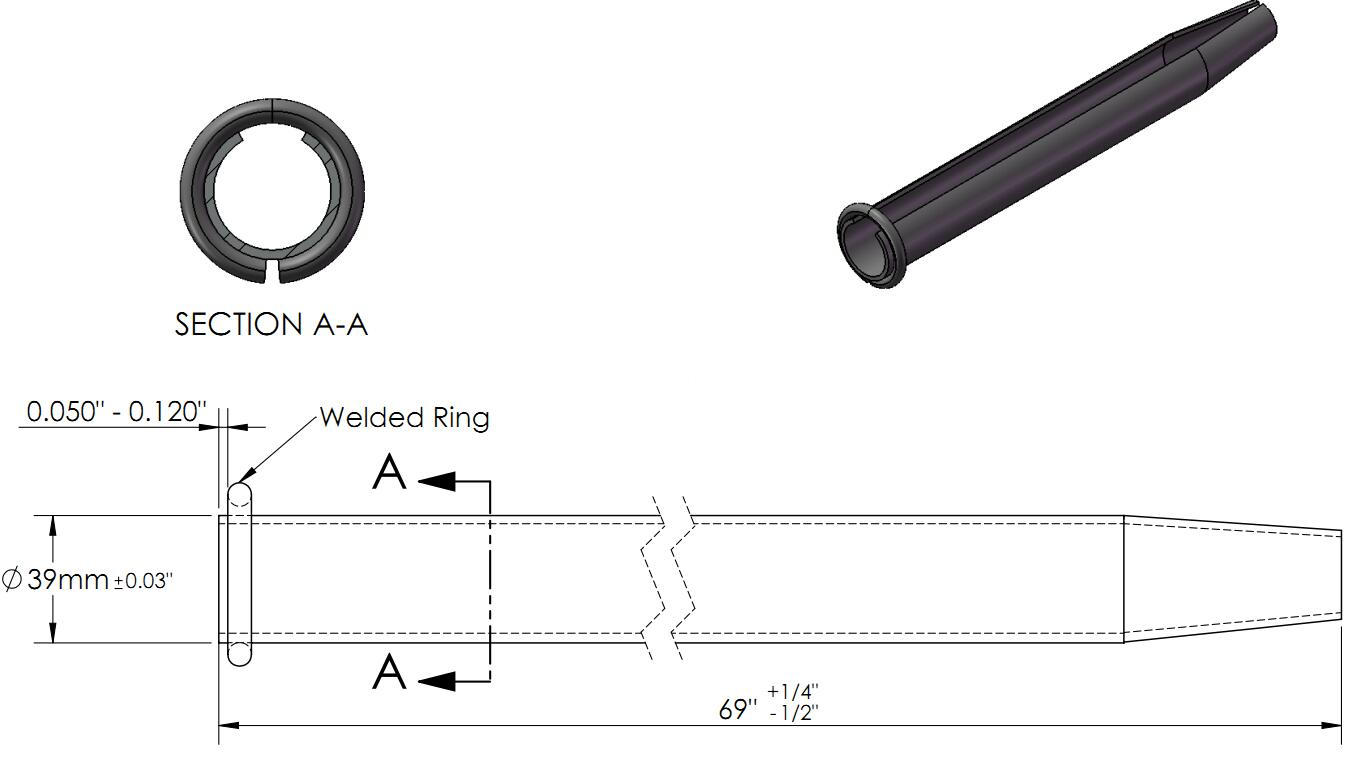 Heavy duty Gearbox transmission bolting Rafted rollformer is designed to produce the steel bolts in high capacity, the speed can reach 100 feet per minute. Steel bolting rollformer friction bolts rollformer line is designed with the function of processing the bolts including: rollforming, cutting,necking,notching,automatic stacker and packing.

Whole line of Steel bolting rollformer friction bolts rollformer line
including below parts: 35 mm friction bolts Rafted molds (14 stands) 1 set
Friction bolts 39 roll former 5 tons Hydraulic de-coiler 1 set
Leveling and Feeding system 1 set
Hydraulic notching system 1 set
roll forming machine (14 stands) 1 set
Speedometer system 1 set
Turkey Straightening system 1 set
Fly saw cutting 1 set
Hydraulic station 1 set
PLC controlling cabinet 1 set
Receive table 2 sets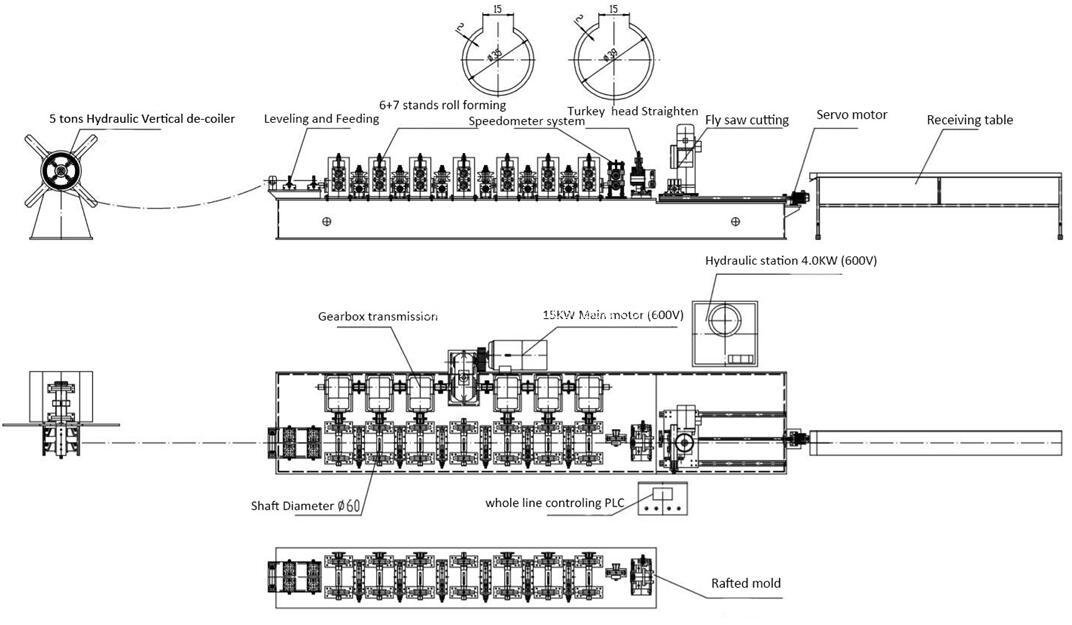 Working Process:
Hydraulic Vertical decoiler-Levelling feeder-7 Horizontal stands + 6 Vertical stands roll forming-Speedometer system-Turkey Straightening system –Servo motor tracking fly saw cutting-Receive table- Hydraulic notching machine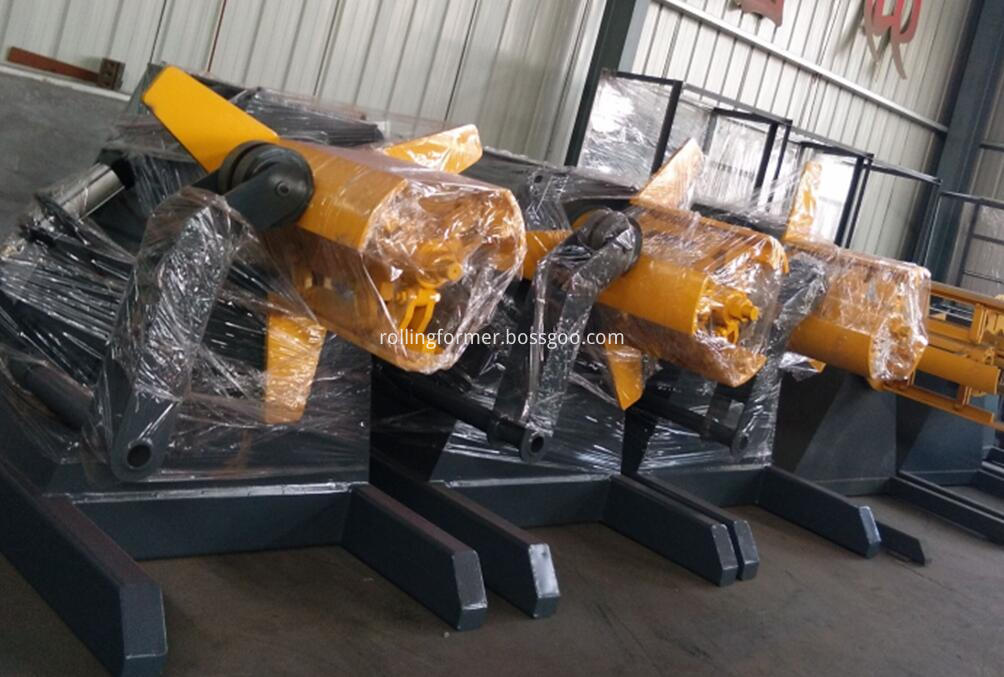 5 Ton Hydraulic Decoiler Usage: It is used to support the steel coil and uncoil it in a turntable way.
Passive uncoil pulled by roll forming system
Loading capacity: 5 T
Inner diameter: 508--610mm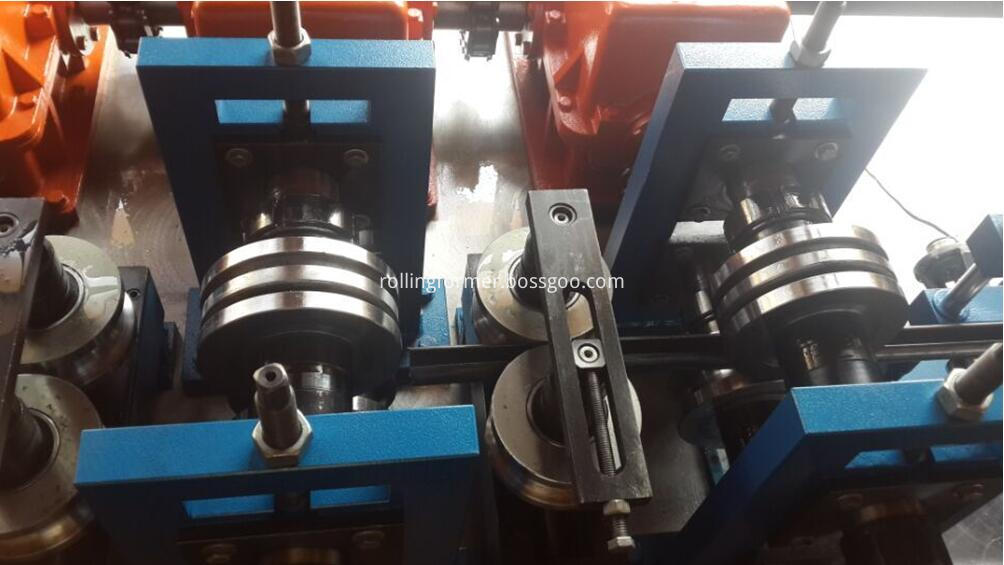 Size: 4500х1800х1400
Weight t: 6 tons
Voltage:600V 50HZ 3Phase
Roller fixer : Vertical arch
Frame : Memorial arch frame type
Frame thickness:25mm
Drive mode: Gearbox transmission
Material of rollers: GCr12MoV
Material of shafts: 45# steel with tempering
Diameter of shafts: φ 60mm
Number of rollers : 13 rollers (7 Level, 6 Vertical)
Main power: 15kw 600V
Cycloidal planetary gear speed reducer)
Speed: 30m/min (Including fly saw cutting)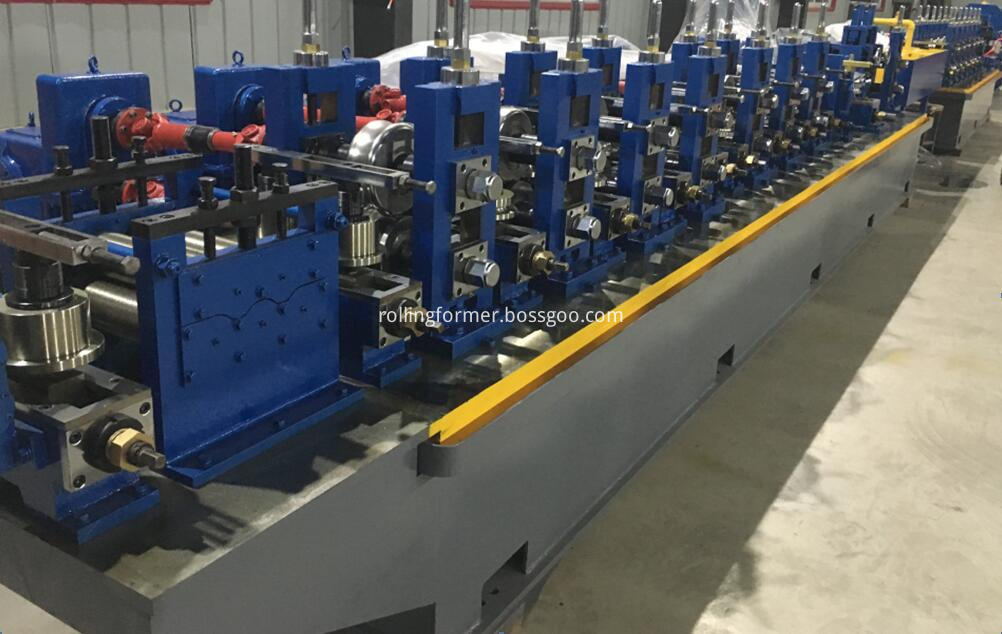 Steel bolting rollformer friction bolts rollformer line for the size of 33mm, 35mm, 39mm, 46mm, by adjusting and changing the molds, it takes about 1.5 hour. also can be designed as with rafted rollformer, it talkes 20-30 minute to finish this.

Machine features:
1. The speed of this speed line is 100 feet/min.
2. This rollformer can produce 2 sizes of the bolts, with rafted molds system.
3. This rollformer is designed with arch pillar structural, and gearbox transmission, so that the machine is strong to work stable.
4. This rollformer line is a heavy euipment, we use the best parts for the machine for durable working.


Below is the cutting system of the friction bolts rollformer, it is high speed fly saw servo cutting system.
Servo motor fly saw cutting system
Material of blades: Gcr12MoV quenched
Power supply : hydraulic power
Frame : Pillar style with rack & pinion system
Stroke switch : non-contact photoelectric switch
Components: It contains one set of cutting tools, one hydraulic tank and one cutter machine.
Hydraulic motor Power: 4.0kw
Hydraulic oil: 46#
Components: The system includes a set of hydraulic tank, a set of hydraulic oil pump, and two hydraulic pipes. And two sets of electromagnetism valves.
If you want to know more about the Heavy duty Gearbox transmission bolting Rafted rollformer, please feel free contact me, please!
Our factory is professional design and manufacturer the rollformers for different profiles. The steel bolting rollformer friction bolts rollformer line,round tube roll forming machine, square tube roll forming machine, CZ purline roll forming machine, metal roofing roll forming machines, shutter door roll forming machine, garage door panel roll forming machine, cable tray roll forming machine, door frame roll forming machine, and other fields roll forming machine, for example, the automobile V band calamp roll forming and bending machine, elevator guide rail roll forming machine, and so on.
If you need any machine, kindly let me know your profile size, thickness, and drawing, i will send you the designing machine and offers, some machine running vidoes for your reference!
If you do not have any information, you are free to contact me, i will send you some drawing for your rference!
My whatsapp: 0086 13151186226