Product Description
Good speed good quality glazed tile rollforming line
Good speed good quality glazed tile rollforming line is a new designed glazed tile machine which prodduce the glazed roofing panels. The glazed roofing panels are different from the normal trapezoidal panel and the corrugated roofing panels. There is one more punching system for the glazed tile. For the glazed tile rollforming line, tradition rollformer is first roll forming the panel, then punch the step, our new glazed tile rollformer, the punching and cutting are at same time. both punching and cutting, in this way, it save much material and save much time. Tradition glazed tile rollformer speed is 2 meters per minute, this new glazed tile rollforming equipement can produce at a speed of 8 meters per minute.
belwo are some pictures for your reference: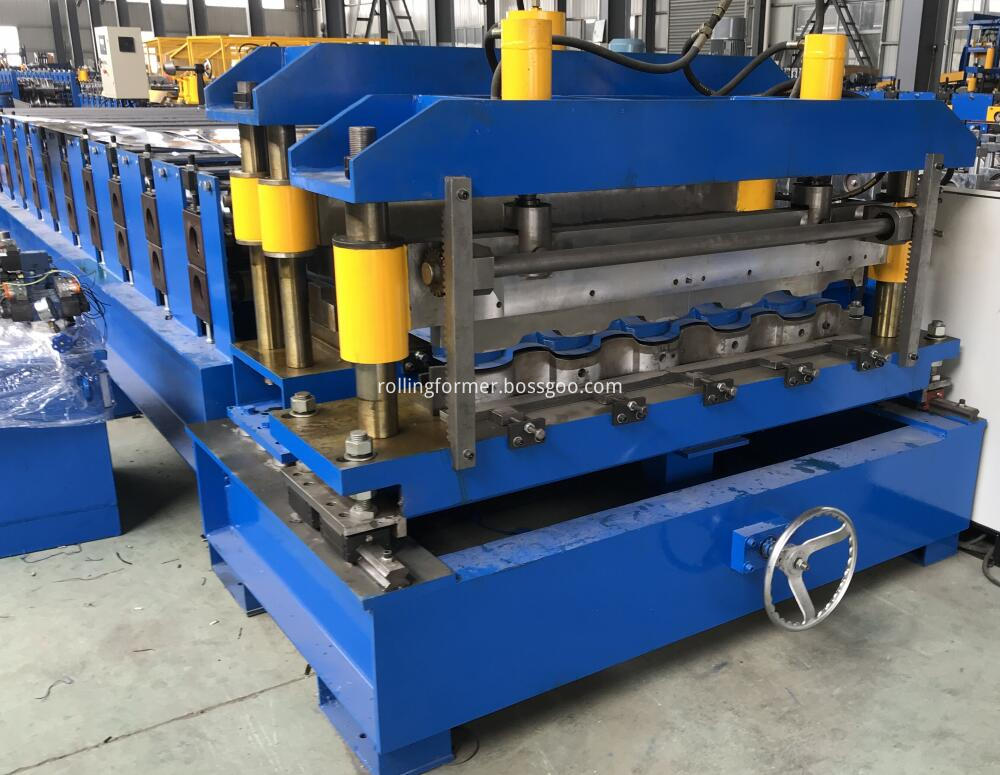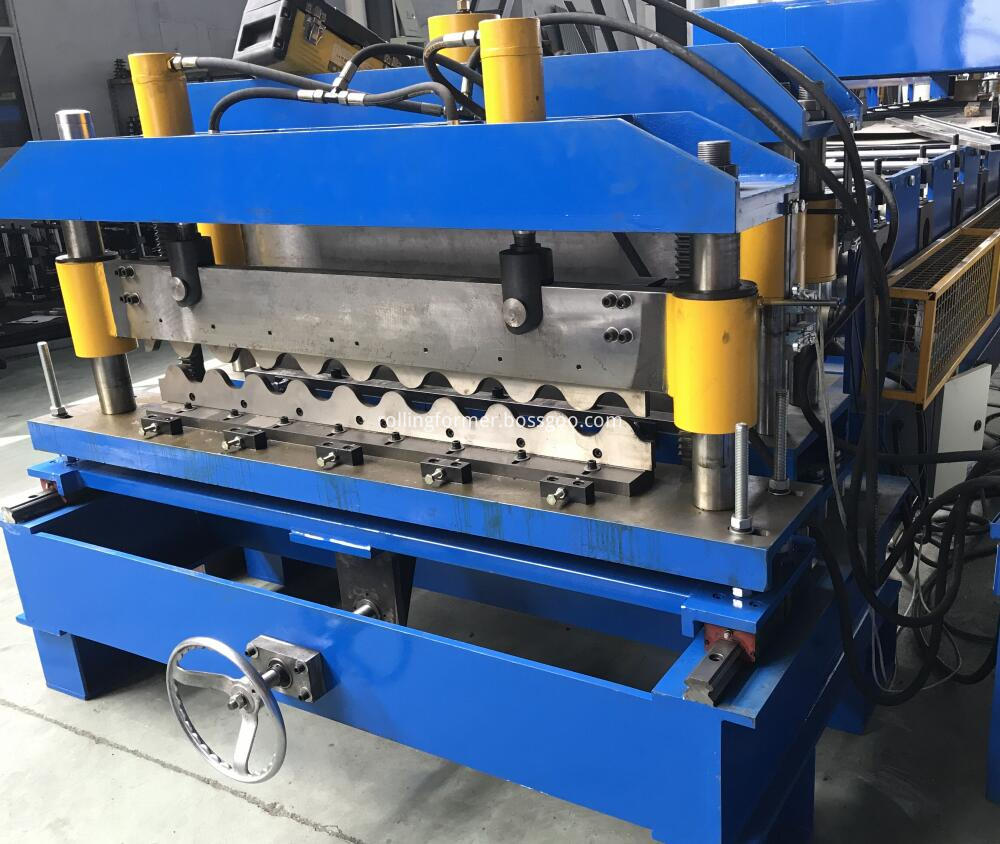 Below are some specification of the good speed good quality glazed tile rollforming line
The decoiler is 5 tons hydraulic decoiler,Coil inner diameter 450-550 mm
Max coil out diameter 1300 -1600 mm
Max coil width 1500 mm
Carrying capacity 5 T
Hydraulic decoile

Also the material feeding and levelling system is good designed, it can put the raw material (steel plate) through the beach to manufacture and process, it can guarantee the products are neat, parallel and uniformity.
Add: Include pre electric cutting device and plastic film coating device.
For the main roll forming body, below is the parameter:
Length of the main part: About 13500 mm х 1850 mm х 1500 mm
Total line is: 15 meters
Weight of main part: 7.6 ton
Voltage :As customer need
Roller fixer : Arch way structural
Drive mode: Gear box transmission
Material of rollers: 45# steel with surface hard chromium plating.
Material of shafts: 45# steel
Diameter of shafts: φ 70 mm
Number of rollers :15 rollers
Main power: 5.5kw
Material thickness: 0.25-0.8 mm
Feature : Ensure stability, precision and cutting speed
Function: Automatic cutting controlled by PLC
Speed: 8 meters/min
Material of blades: Cr12 quenched
Power supply : Hydraulic power
Servo motor power: 3.0 kw 1 GSK
Components: It contains one set of the servo motor , one set of blade, one hydraulic tank and one cutter machine.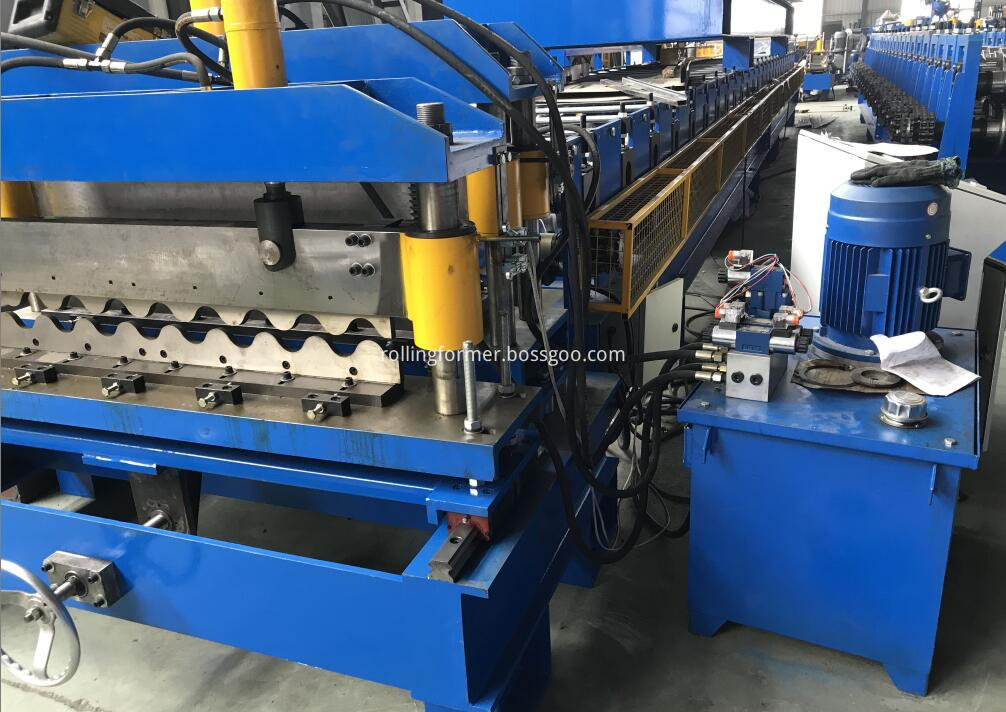 For the glazed tile rollforming equipment, we have different designing, for example, the structural, there is middle plate structural, the pillar structural, the arcway structural. For the transmission, there is chain transmision, gear transmission, gear box transmission and so on.
For the good quality good speed glazed tile roll forming machine, there are below features:
1 Archway structural
2 High speed, 8 meters/min. Normal glazed tile roll forming machine speed is 2 meters/min. (Actual working speed.)
3 Gear box transmission.
4 Punching and cutting are structural together and working together.
5 With 5 tons hydraulic decoiler and 7 meters automatic stacker.
6 This machine we have finished many sets for the France and England customer, it is a high speed and high quality machine

This is the new designing receiving table of the high speed steel roofing rollformers.
Our factory is professional make the rollformer machines for the steel roofing, CZ purlines, steel framing strut, suspended ceiling channel, cable tray roll forming machine, shutter door rollformers, door frame rollformers, ridge cap roll forming machines and so on.
we can design the machines according to your requirements!
If you need this high speed and high quality glazed tile roll forming machine, i would like to send you some machine running videos and machine offer for your reference,
any inquiry about the machine , pelase feel free send me an inquiry.