Product Description
Decking panel roll forming floor decking machine
Floor decking metal sheet is widely used in modern building, instead of the concrete decking sheet. steel composite floor decking sheet rollforming line produce the metal decking by roll-formed procession. The floor decking machine is designed with the manual decoiler, the leveling system, embossing rollers and main roll forming machine rollers, and hydraulic cutting system, decking receiving system, Besides, included in a whole like floor decking machine floor deck roll forming machine, there are controling cabinet and hydraulic stations too.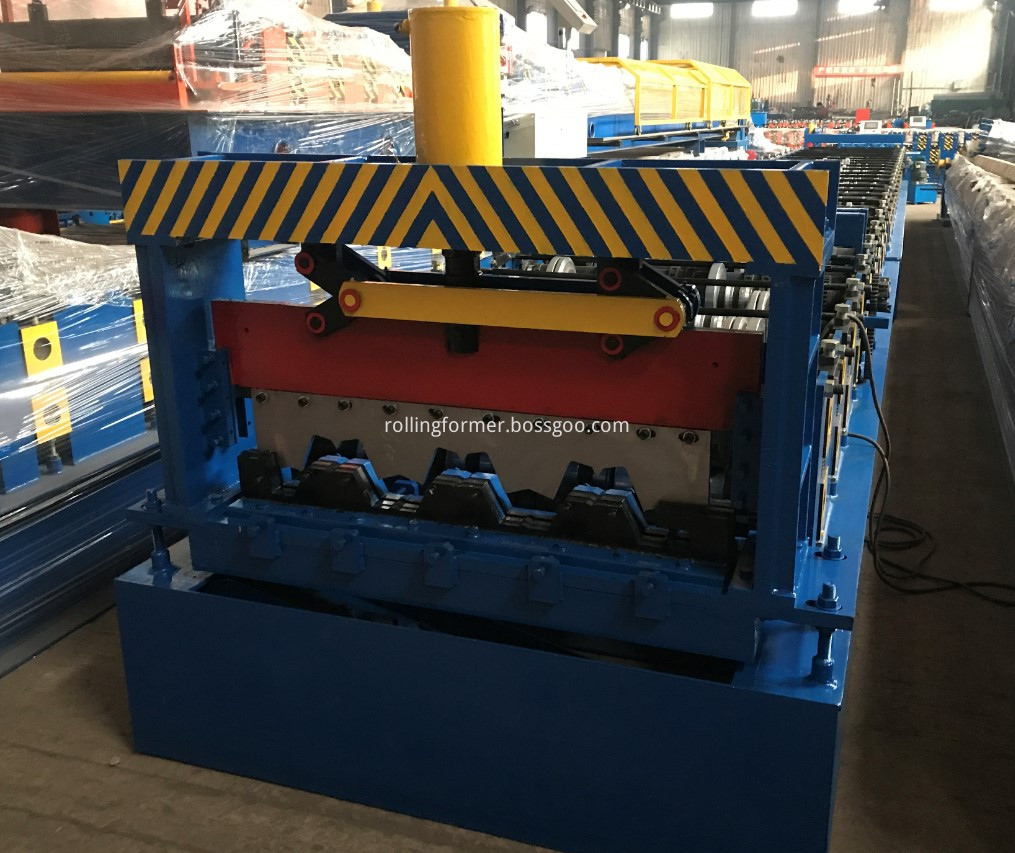 Steel composite floor decking sheet rollforming line floor deck making machinery for cutting floor boards CNC automatic machines, plate-type high-strength galvanized steel floor panels, large-span floor shop contained cement. PLC control, touch screen operation, easy to understand. Greatly improve the efficiency, quality and cheap, affordable and reasonable new brilliant product design, in line with market demand.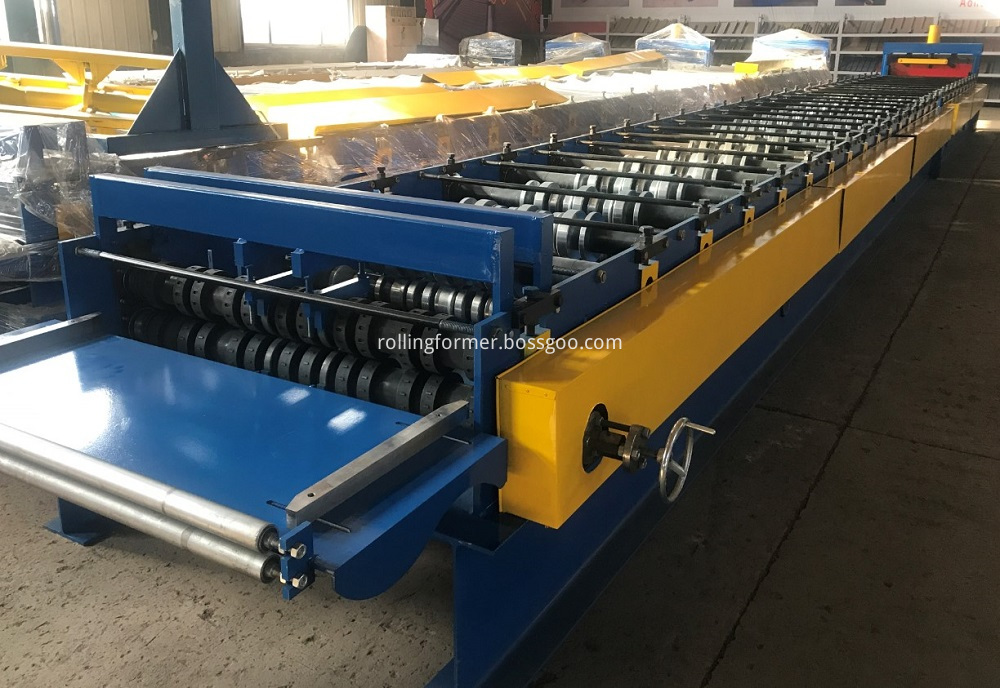 Steel composite floor decking sheet rollforming line Processing flow diagram of machine
Manual decoiler →Feeding material into machine →Roll forming machine →Measure length →4 sets butt welding machine→Straightening→Hydraulic cutting →Finished Products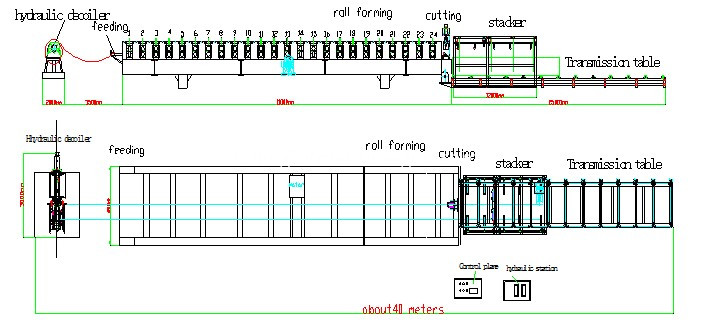 Processing material: colored steel plate, galvanized plate, or aluminum plate Material thickness: 0.8---1.2mm
Material hardness: 195 mpa---350 mpa
Material width: 1000mm
Formed width: 720/960mm
Wave length: 187.5mm
Step height: 75mm
Step length:150mm---380mm(adjustable)
Forming speed: 8-10m/min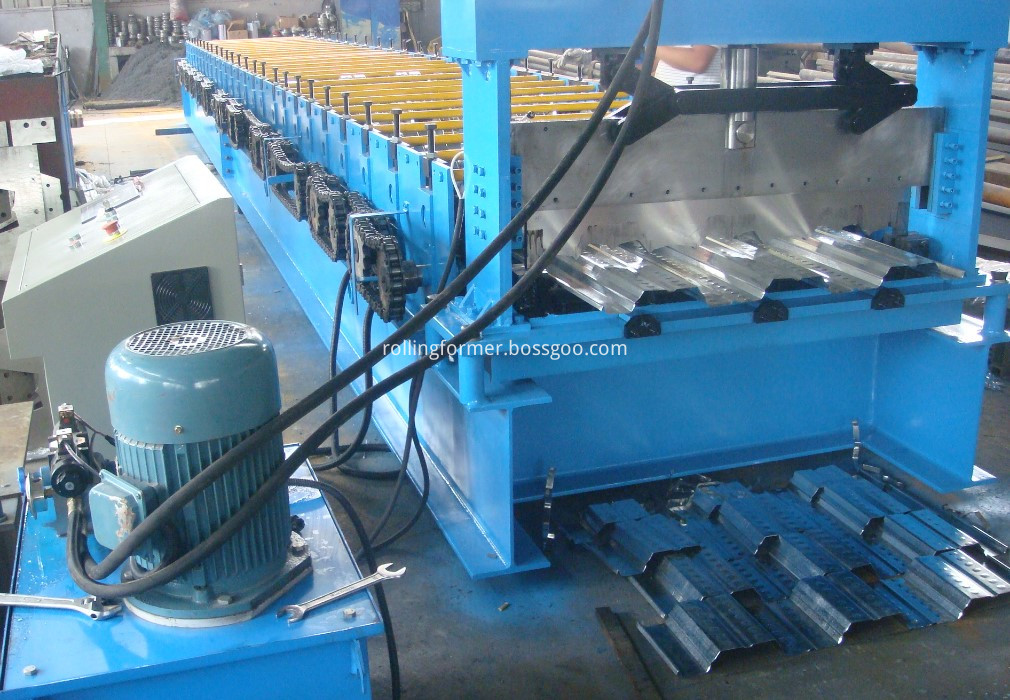 Entry Beach
Usage:Put the raw material(steel plate) through the beach to manufacture and process, it can guarantee that the products are neat, parallel and everything is uniformity. Please refer to the equipment regulation to know the function of locate angle iron.
Main Roll Forming System
Feature : Ensure stability , precision and lifetime.
Usage: In order to keep the product shape and precision, adopts welded sheet structure, motor reducer drive, chain transmission ,roller was chromed which can keep the molding plate surface smooth and not easy to be marked when it is being stamped.
Length of the main part: about 16000 х1650 х1500
Weight of main part:
Voltage : 380 V/50HZ 3Phase or as your required
Roller fixer : middle plate
Frame : 400 H steel welded
Drive mode: chain
Material of rollers:45# steel, surface hard chromium plating.
Material of shafts: 45# steel
Diameter of shafts: φ 80mm
Number of rollers : 36rollers
Main power: 2X11 kw
Shearing Mechanism
Feature : Ensure stability, precision and cutting speed
Function : Automatic cutting controlled by PLC
It adopts the hydraulic drive and automatic location to decide the dimension and cut the target products.
Material of blades: C r12 quenched
Power supply : hydraulic power
Components:It contains one set of blade , one hydraulic tank and one cutter machine.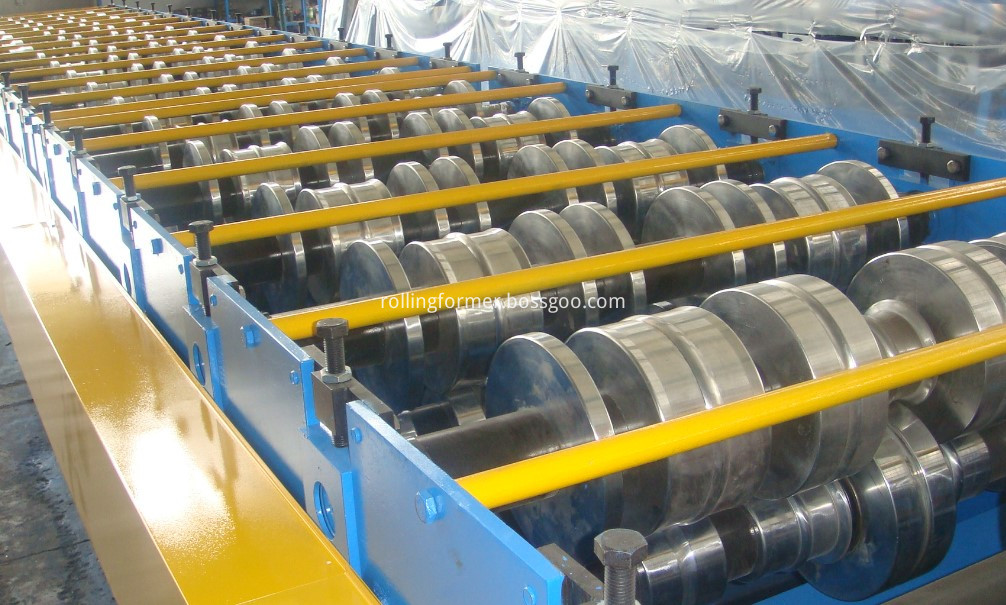 Hydraulic Station
It is controlled by gear pump. After filling the hydraulic oil into the hydraulic oil tank ,the pump drive the cutter machine to begin the cutting job.
Power: 5.5kw
Hydraulic oil: 46 #
Electric Control System
Feature:
1. Adopted PLC , frequency converter , Delta touch screen from Taiwan to ensure high speed with stability, precision and lifetime.
2. Other electric element are Panasonic
Counter
One counter gauges length, pulses, and decides length.
Omron encoder for length measurement.
Products receiving tables
It adopts welded steel and supported roller to transmit the products.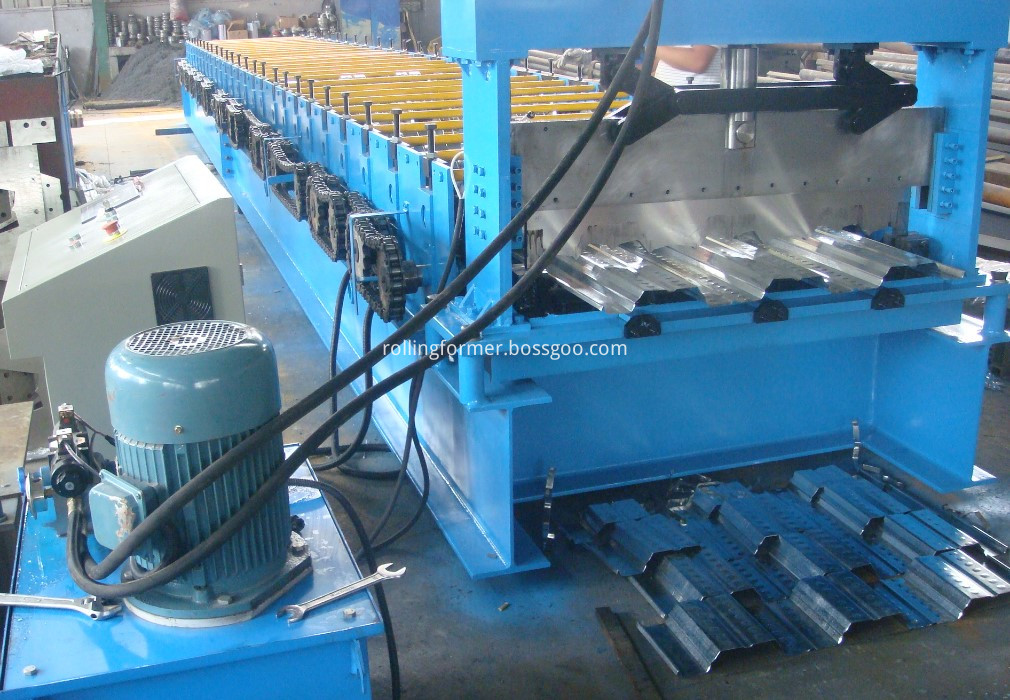 Below are the pictures of the embossing rollers of the steel composite floor decking sheet rollforming line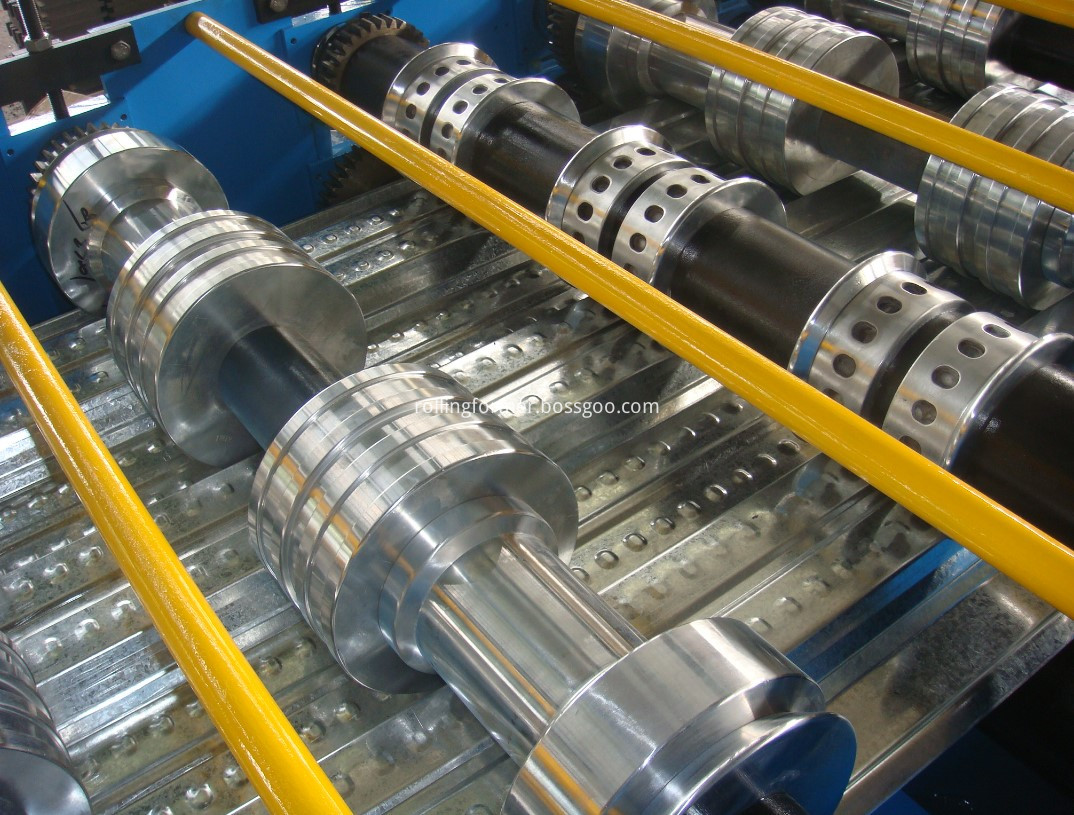 Our factory is professional make the steel composite floor decking sheet rollforming line, Metal roofing sheet rollformers, CZ purline roll forming machine, floor decking machine, steel framing CU stud and track roll forming machine, corner bead L angle roll forming machine, metal tube round pipe, square pipe rollforming machine, high frequency tube welding machine, shutter door slats rollformers, shutter door U guide roll forming machine, and door frame roll forming machine, door panel making machine,Automobile V band clamp forming and bending machine, elevator guide rail roll forming machine, and shelving racking roll forming machine, the cable tray roll forming machine, and different special profile roll forming machine. we can design the machine according to your drawing. If you need any roll forming machine line, just feel free contact us, we can design the machine and send you the offer in first time!
Our factory is professional make the rollformer machines for the steel roofing, CZ purlines, steel framing strut, suspended ceiling channel, cable tray roll forming machine, shutter door rollformers, door frame rollformers, ridge cap roll forming machines and so on. If you need any machine , pelase feel free contact me, please!
we can design the machines according to your requirements!