Product Description
Suspended ceiling channel A type carrier rollformers
Suspended ceiling channel A type carrier rollformers for the Suspended ceiling channels, there are different types profiles, such as the C profile, U profile, Omega profile, T grid profile. The close A profile is one kind of the suspended ceiling channels. This A carrier is used for a large area of ceiling building, It is used together with the C profile channels.
Below is the pictures for your reference:


For the Suspended ceiling channel A type carrier rollformers, whole machine line including below parts:
5 tons hydraulic decoiler, the leveling system, main roll forming machine, and cutting system, the products receiving table.
Below are some pictures for your reference: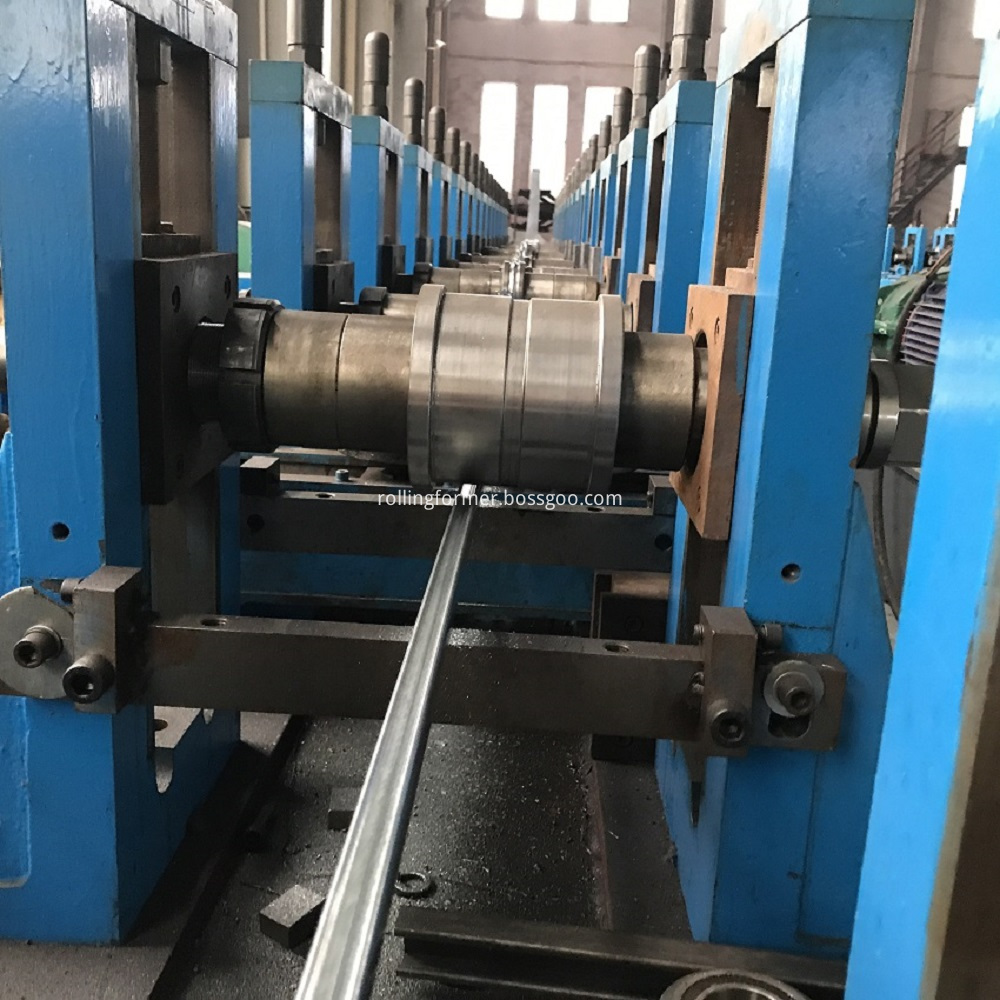 Main roll forming machine adopts the gear box transmission to ensue the machine working stable.
At the beginning of the roller stations, Between each station, there is one team supporting rollers to make sure the raw material can run straight.
At the end of the rollers stations after the profile formed, there are up rollers, down rollers, and right rollers, left rollers to ensure the profile formed well from up, down, right, left directions.
The cutting system is power flay saw cutting system, high speed and ensure the cutting without burr.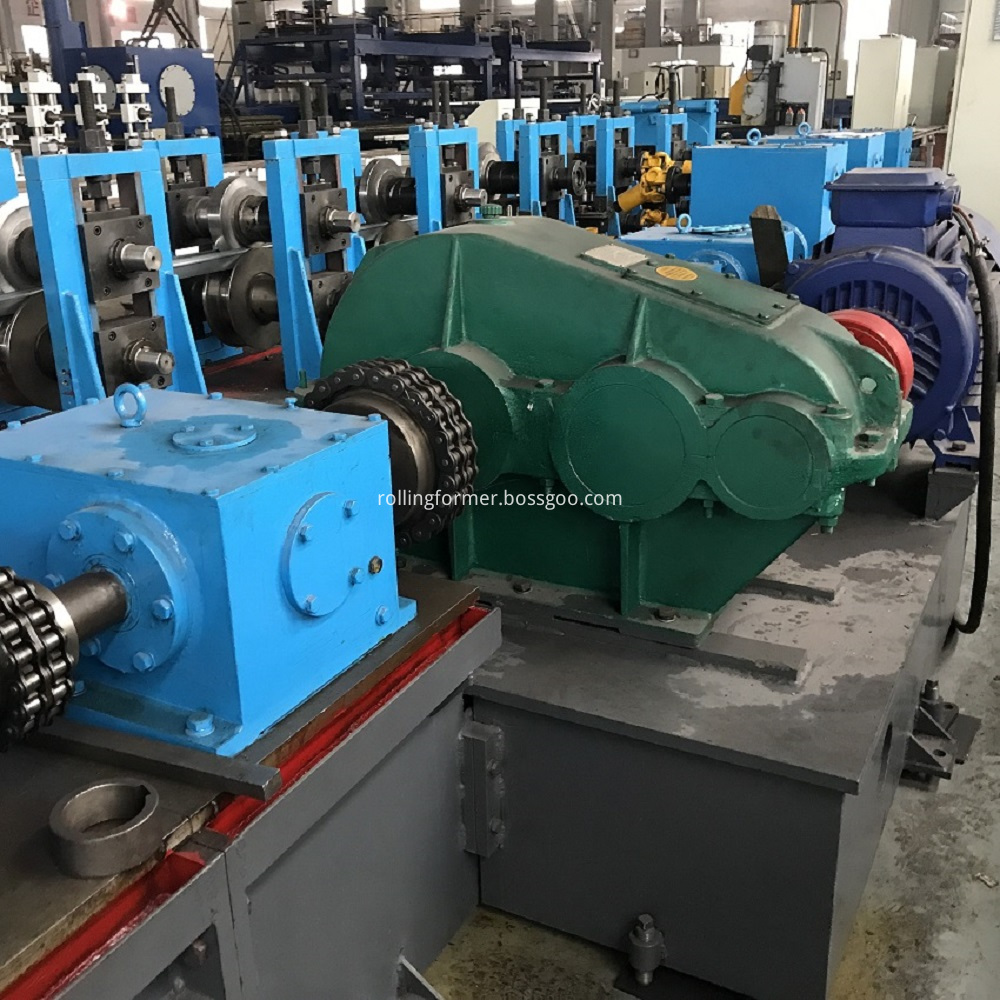 | | | | |
| --- | --- | --- | --- |
| NO | Equipment Name | Quantity | (KW) Motor Power |
| 1 | automatic Un-coiler | 1 | 5 |
| 2 | Precise leveling machine | 1 | 3 |
| 3 | Roll Forming Machine | 1 | 30 |
| 4 | cut off | 1 | 7.5 |
Suspended ceiling channel A type carrier rollformers including below parts:
Hydraulic decoiler, leveling system, main roll forming machine, hydraulic cutting system, the hydraulic station, and PLC controling box.

Below are the pictures of the machine parts , we use the best quality and big thickness frame
The specifications is as below:
1.Manual Decoiler: one set
1)inner diameter: Φ500-700mm (or specified by the customer)
2)Max. loading of the spindle: 3T
3)width of the rolled material: 400mm
4)Outer diameter of the rolled material: 2500mm
2.Forming Machine (15 lanes): one set
1)Including: allocation gearbox, model 180 frame(thickening), roller shaft, forming die set, automatic coating oil equipment for sheet, correction head, etc.
2)frame: 680mm height, 300mm width, HT200 material
3)fore-and-aft clearance of the frame: 660mm
4)vertical roll holder: 5 sets
5)allocation gearbox with 8 cambered bevel gear, 5 the upper and lower drive gears, steel tempering cabinet (thickening), 165mm center distance; the first two and last three lanes are upper and lower driving, others are lower driving only.
6)roll mandrel: Φ80mm, 300mm effective expanding width, 40Cr material, the max. thickness of roll bending Q235 plate is 3.5mm
3.Main Motor: 55kw Tri-phase AC variable frequency speed regulation motor with one set of 650 reducer, intermediate drive.
4.Hydraulic Track Type up-and-down Cutting Machine: one set. (No glitches tracking automatic cutting machine with a hydraulic station)
5.Drum-type Sizing Receiving Station( 6 meters long): one set, sizing length could adjust according to customer's requirements.
6.Three-dimensional Correction Head: one set (correction mode included)
7.TK5A Elevator Hollow Guide Rail Forming Mold is offered( product images should be provided by customer), the material of front 9 lanes mold is GCr15 bearing steel, latter 6 lenes mold is Cr12 mold steel. Quenching surface grinding.
8.Linkage Operation Cabinet: one set
9.One Set of Automatic Coating Oil Equipment for Sheet is added before feeding hole.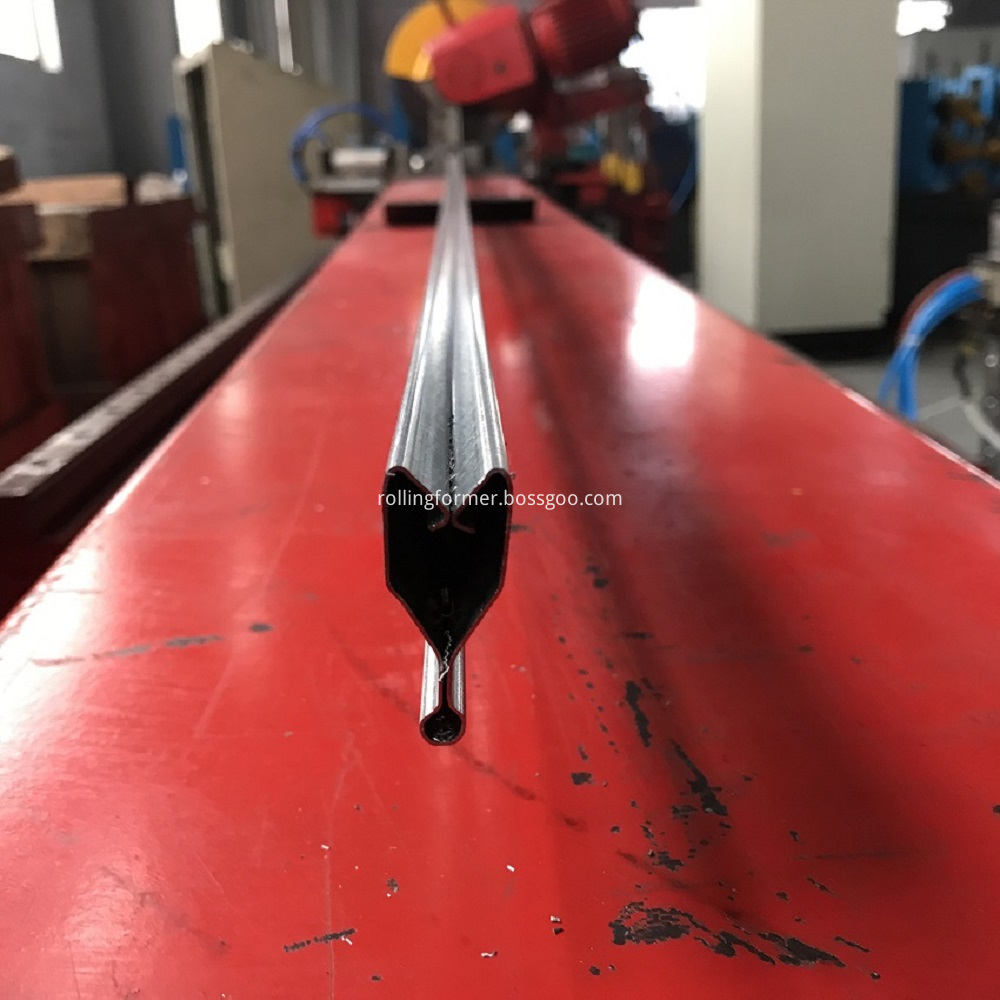 Brand of every part of the Suspended ceiling channel A type carrier rollformers including below parts:

| | | |
| --- | --- | --- |
| NO | Equipment Name | Manufacturer |
| 1 | PLC | OMRON |
| 2 | HMI | OMRON |
| 3 | Electric Elements | Schneider/OMRON/ Keyence/ Siko |
| 4 | Bearing | Timken.Schaeffler |
| 5 | variable frequency motor | SIEMENS |
| 6 | Rotary encoder | OMRON |
| 7 | Digital position display | SIK |
The whole line of elevator door frame machine elevator parts rail rollformers is well designed, with many innovative designing solutions, the main goal is to make a working stable,
and high precision mill to produce high quality, with high precision , straight elevator guide rails .
Below is the introsuction of the Main roll forming machine.
| | | |
| --- | --- | --- |
| NO | NAME | SPECIFICATION |
| 1 | Strips thickness | ≤ 2.5 mm |
| 2 | Roller station | 25 ROWS |
| 3 | Power Supply | Can be made according requirement |
| 4 | Machine structural | Memerical archway |
| 5 | Roller distance | 200mm |
| 6 | Roller material | 42CrMo |
| 7 | Shaft diameter | 45mm |
| 8 | Main forming machine body | 350 H steel |
| 9 | Electric | Schneider/Omron Keyence/Siko |
| 10 | Bearing | Timken, Schaeffler |
| 11 | Variable frequency motor | Siemens |
| 12 | Rotary encode | Omron |
| 13 | Cutter Standard | GCr12 |
Also Suspended ceiling channel A type carrier rollformers is designed with below functions:
1. Guide device: The coil is accurately introduced into the first forming wheel with the digital position display.Adjustment range: 10~80mm
2. Lubrication system: Lubrication device use can reduce the friction processing products and roll
3. Correction of the head/Turks head: This Turks head with design well , ensure the wheel rim profile straight after rolled forming.
4. Length detection:The measuring wheel moves over the profile, the rotary pulse generator controls the pulse signal, and the control unit issues a cut-off command according to the required profile length
5. Guarding:The protective cover prevents the handle from reaching the host's tool and plays a role in reducing the noise. In the automatic operation mode, the full transparent observation process cannot be opened by the magnetic locking of the machine
If you want to know more details of every part ofelevator hollow guide rail roll forming machine, please feel free contact me, i will send you the offers with the price and specifications, and the machine running videos.