Product Description
Door frame rollformer door frame roll formng machine
Thickness of the door frame is from 1.0mm to 2.5mm,Material is galvanized steel. There are varieties profile of door frames, some door frames are with connecting holes and lock holes, so that after one piece of the door frame is formed, it can form a door in short time, just connect the slips by tool, it is very convenient speedframes.Our company is a specialized equipment machinery manufacturing enterprise integrating design, development, manufacturing, assembly and debugging. It has advanced CNC machining center, 2.5 vertical lathe, CNC boring and milling machine, CNC double-sided milling machine and other large professional equipment. With perfect testing methods and advanced testing equipment, it can provide users with excellent performance, reliable use of products and satisfactory after-sales service. Our company mainly produces various series of profiles rollforming line, speedframe door frame rollforming line, etc., and designs and manufactures non-standard equipment according to user requirements.
First, the function of the speedframe door frame rollforming line: Mainly used for the full molding and semi-molding of the door frame material, suitable for security doors, fire doors, stainless steel doors, movable doors. Second, the speedframe door frame rollforming line specifications Model: Single lace molding machine (formed only with curved lace parts, other right angles are completed on the bending machine), bottom frame forming machine, frame forming machine (separate frame and hinge frame, top frame) Composite door frame forming machine, composite door bottom frame forming machine. Customers can provide cross-section drawings or sample customization, and our company can also provide cross-sectional reference. Third, the door frame molding machine performance structure: There are semi-automatic control and fully automatic computer touch screen configuration (discharge rack - feeding open - host molding - straightening part - hydraulic cut) adjustable speed, adjustable length, Counting, you can enter 3-6 specifications and quantity at the same time. The thickness of the molding material is 8-15 meters per minute: 0.3mm-2.0mm.

Below are some drawing of the speedframe door frame for your reference: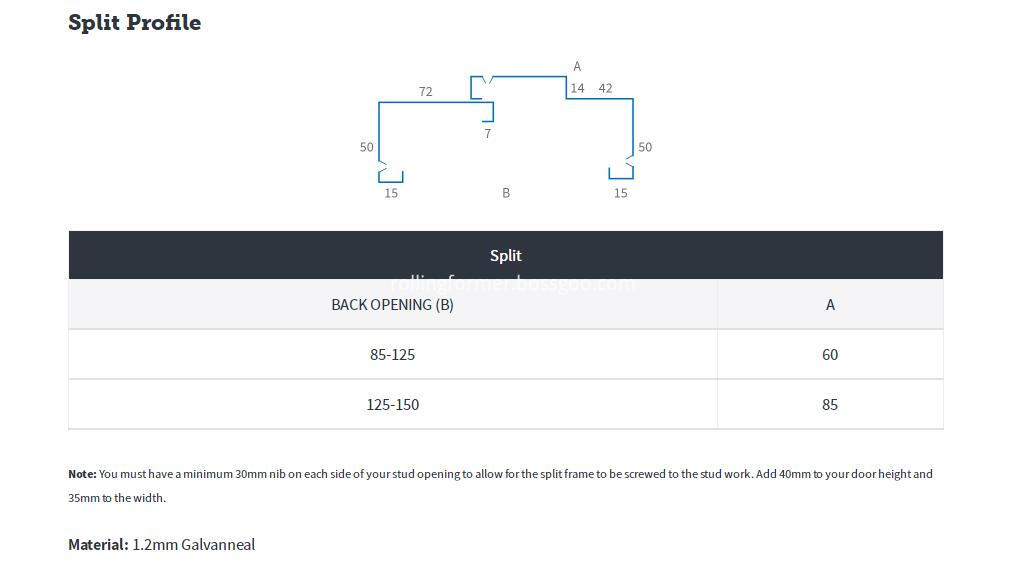 The door frame machine consists of the following parts, unwinding, punching, leveling, roll forming, and shearing. This is a flow chart of a conventional door frame forming machine. Since the punching portion needs to punch out a large connecting hole, if it is a front punching hole and a rear cutting method, it is easy to jam, causing problems in the operation of the door frame forming machine. If it is the front punching, the front cutting, the forming of a section, thus avoiding the problem of the jam.

This is the holes punching and cutting system of the door frame rollformer.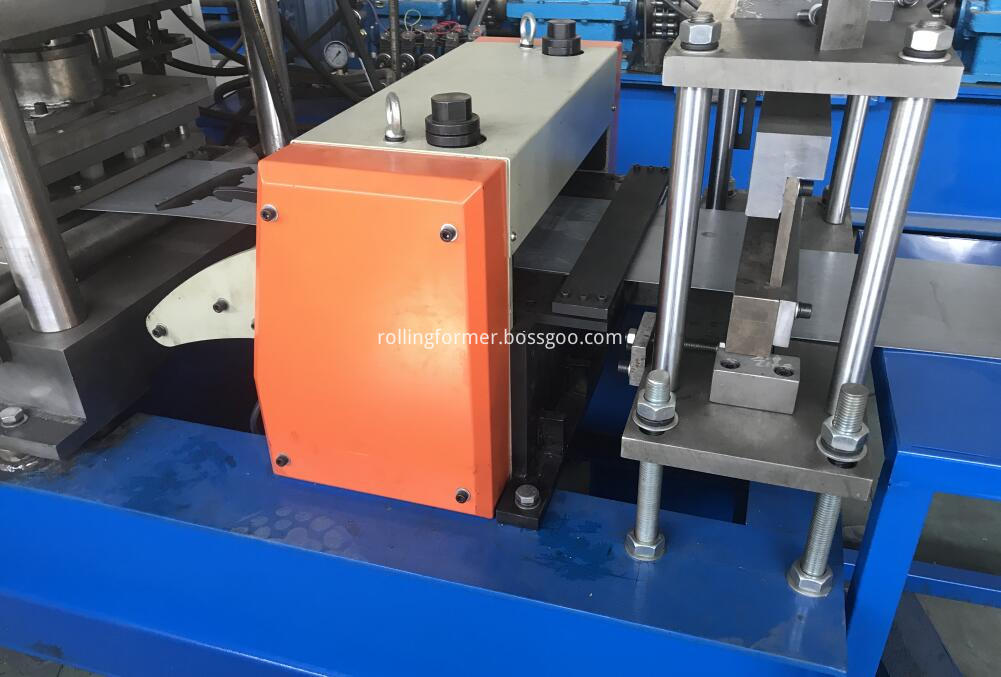 This is the main machine body of the door frame rollforming line. specifications are as below:
Equipment type Yx12x30x157mm
Expanded width 245mm`
Working speed 10-15 m / min (excluding cutting time)
Pressed sheet thickness 0,8--1,5mm
Control method Panasonic PLC
Dispensing rack 2 tons of manual discharge rack
Leveling machine
Leveling machine power 3kw
Word service feeder
Word service feeder power 2,2kw
Punching frame A set of [4 sets of punching structure]
Mold 4 sets
Number of molding channels 16
Roll material Gcr15 steel after finishing, quenching HRC58-62 ° C, surface chrome treatment
Shaft material and shaft diameter 45# steel finishing, shaft diameter ¢65mm
Host power 7,5kw