Product Description
C lipped channel forming machine
C lipped channel forming machine is a line which can produce different sizes of C purlines by changing the spacer. The character of this C lipped channel forming machine is with low cost, and easy to change the space to adjust the size. The thickness of this C section floor beam is 1.5-3.0mm, size is from 80-300mm. For any sizes you need, we will know it and custom design the machine for you. We need to know the flange, the depth, the thickness,the lips.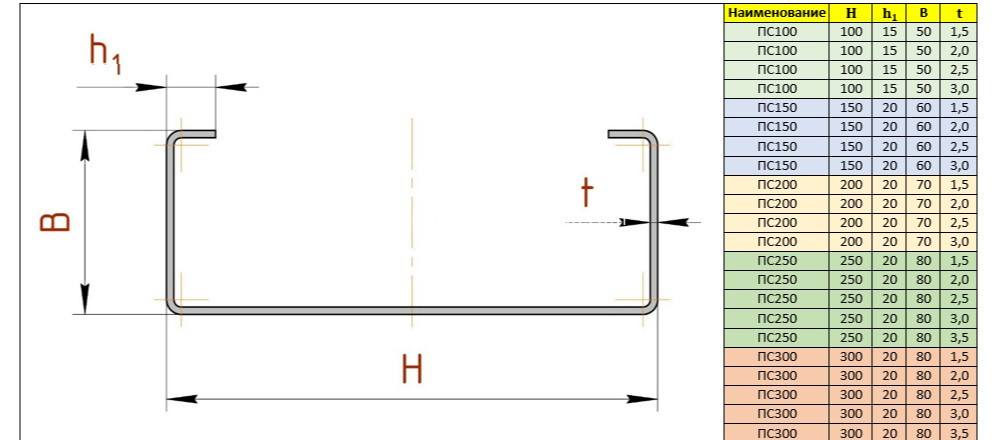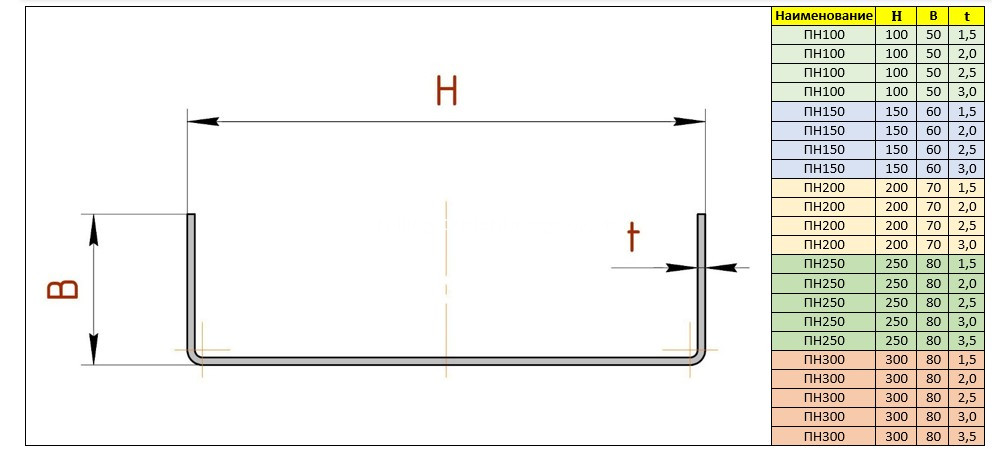  Steel thickness (t): from 1,5 mm to (at least) 3,0 mm;
 Profile height (h): from 100 mm to (at least) 300 mm;
 Flange width (b): from 40 mm to (at least) 80 mm;
 Flange height (c): from 12 mm to (at least) 20 mm;
 Maximum hole diameter deviation: +2 mm/-0 mm
 Minimum finished product length: at least 1500 mm;
 Maximum finished product length: at least 12000 mm;
 Length tolerance: ±1.5mm per each pieces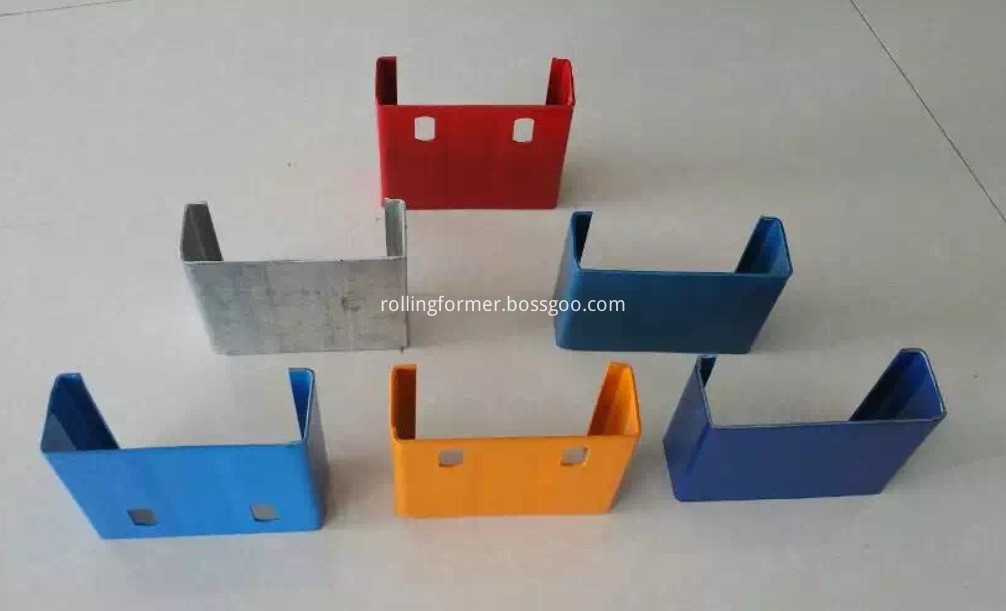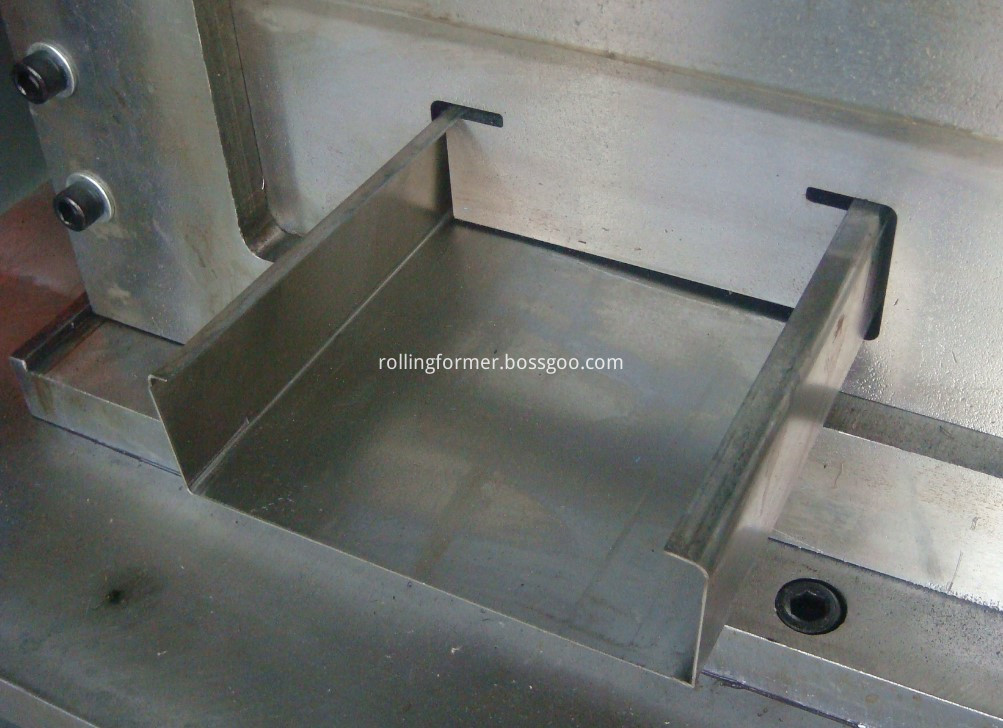 C lipped channel forming machineincluding below parts:
Technical Specification
Ⅰ: General properties
Maximum production speed: not less than 15 meters per minute excluding cutting and punching);
Bending precision: the maximum profile deviations (dimensions and shape) shall not exceed the tolerances specified as following data (or equivalent tolerances);
Bending quality: ability to bend the profiles of the specified configuration at the specified maximum steel thickness; cracking of the steel or metal coating is not permitted for all required steel grades.
The 3 tons manual decoiler, the feeding leveling system, the main roll forming machine, the hydraulic cutting system and receiving table.
Below is the working flow for your reference:

Below are some pictures for your reference: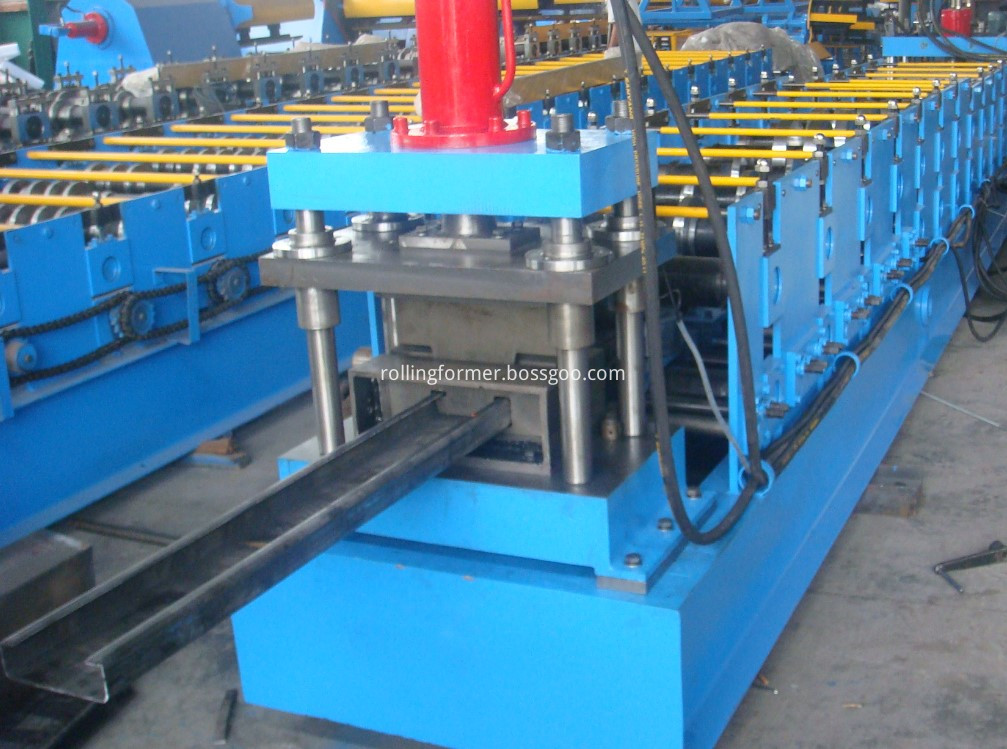 This is the adjustable cutting system, by this adjustable cutting system, you can cut any size you need, but no need to change the cutting blade. Just adjust the shaft left or right, up or down. This C section floor beam C purline machine cutting system is popular in the C purline roll forming machine.Easy to control, but with low cost.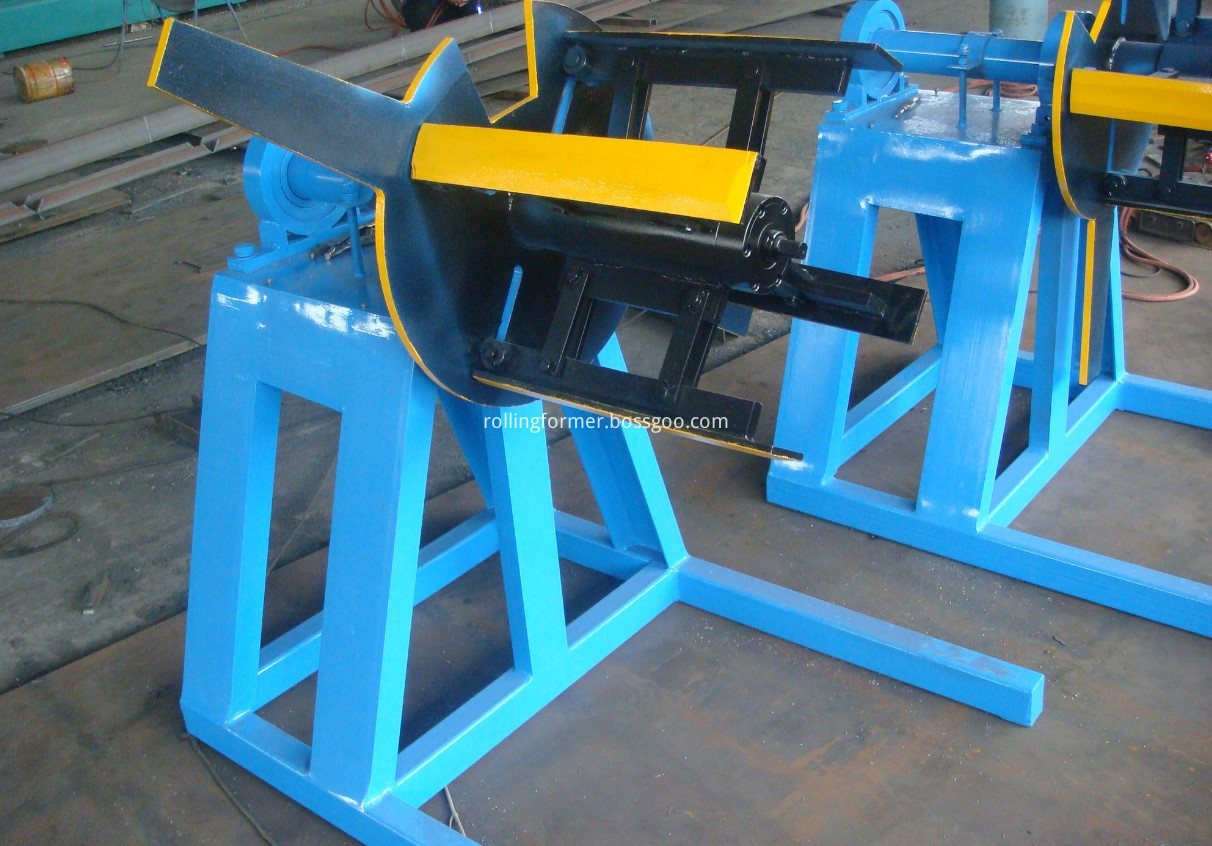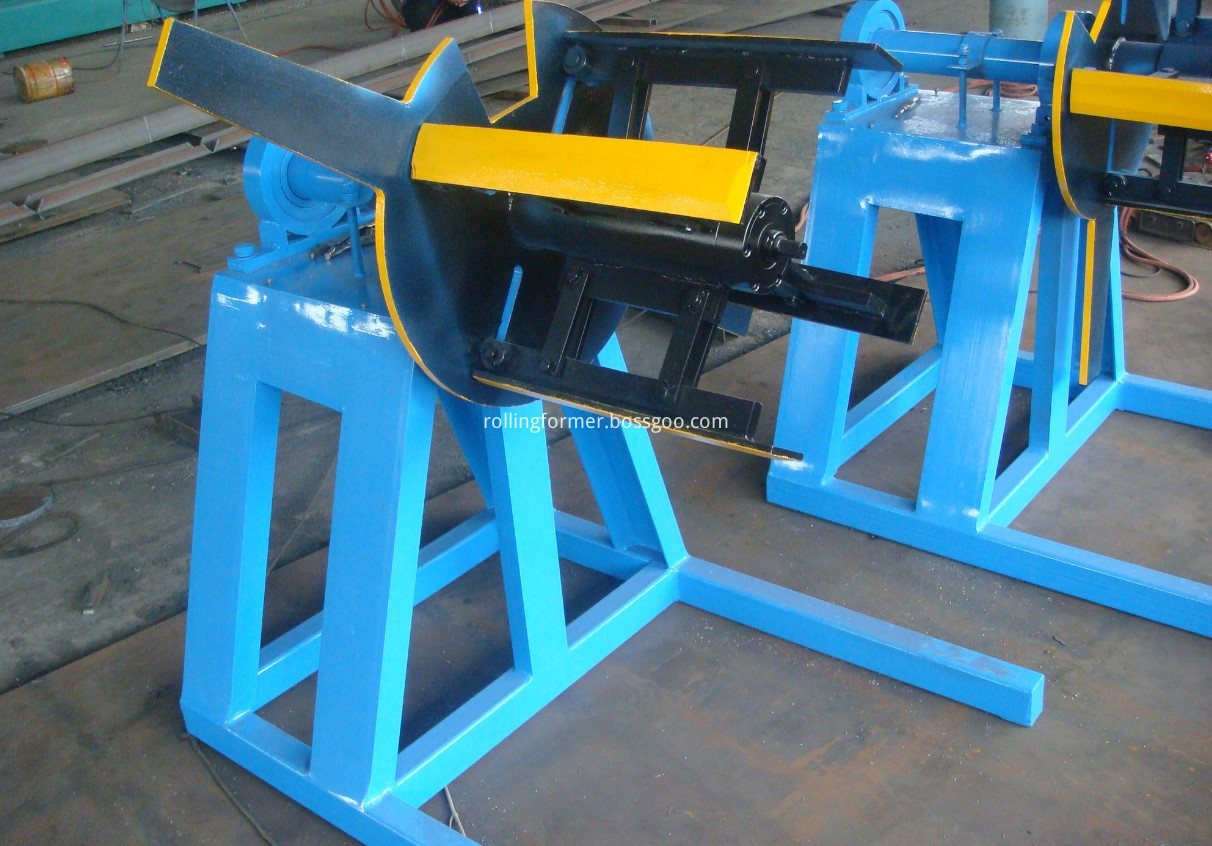 3T decoiler
 Dimensions: 1700mm*1000mm*800mm
 Width of feeding: 300mm
 Capability: 3Ton
 Range of expand(by manual): 420mm-510mm
 Mode of expand &fight: inner expand &fight by manual
 Way of feeding: manual
 Color: Blue (or base on customer request)
 Quantity: 1

Feeding
 Adjustable center of the forming rollers and of sufficient length to prevent lateral movement of the strip on its entry to flattener.
 Feeding type: adjustable
 Feeding width range:200-600mm
 Entrance and guide roller: diameter is ¢65mm, material is SAE1045, HRC48-52° surface with chrome
 Flattener
 The quantity of leveler rolls must be planned according to thickness 1.5mm to 3.0mm.
 Flattener roller: upper is 3 rollers, down is 4 stations(total is 7 rollers)
 Flattener roller material: SAE 1045 thermal treatment hardness 48-52 HRC.
 Diameter of flattener shaft: ¢76mm, material is SAE 1045, hardening and tempering
 Drive by motor: 4kw AC motor (Guomao of China)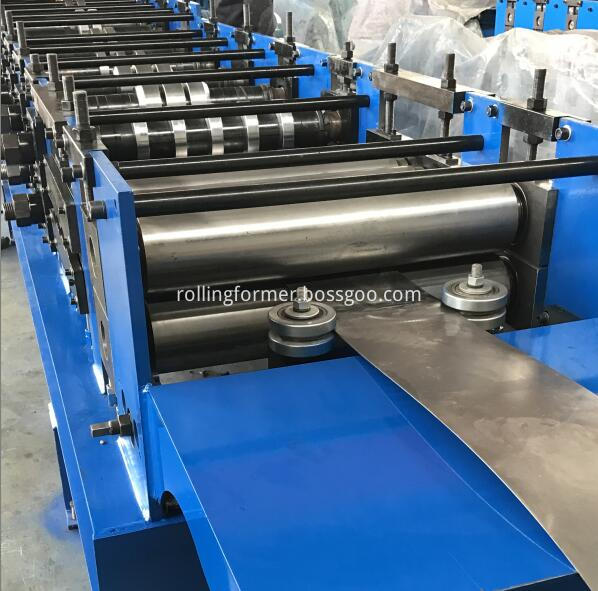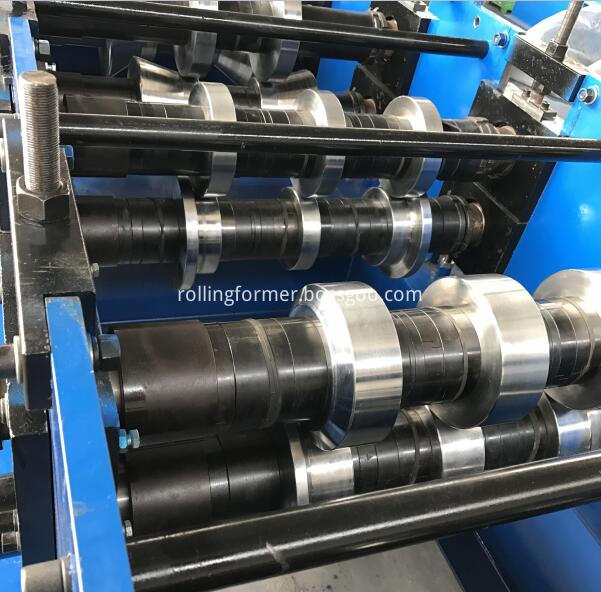 Punching:
 Base on customer provide punching drawing, this machine need adopt two units hydraulic punching system
 The punches will be connected to a single hydraulic unit having tank, motor, pump, pressure control valves, pressure gauges, solenoid valves, hydraulic hoses, all designed to operate safely at the required operating pressure; also to facilitate changing O-ring they must be of standard size, also consider suitable cooling unit.
 The punches and dollies will be CR-12, hardness HRC 58-62 and chrome coating both punches and dolies should be easily replaceable without requiring disassembly of complete units.
 The whole punching operation should be automated and controlled by a program installed in the PC which is located in the operator's console.
 Hydraulic power: 5.5kw
 Working pressure: 12-16Mpa
 Sample photo for reference:

The main motor system of the adjustable roll forming C Section Floor Beam rollformer.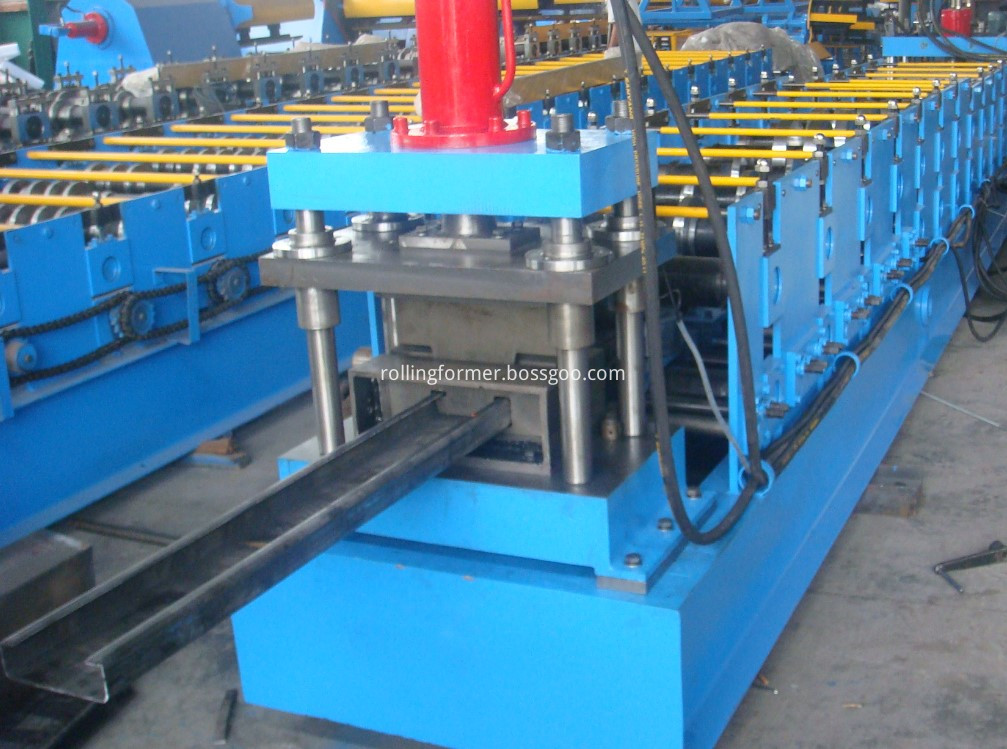  Forming Section
 Material of the profile: steel sheets for cold bending according to EN 10346 or equivalent requirements, steel grades to (at least) S450 GD, or other grade of steel with equivalent yield strength, with metal coating from Z100 to (at least) Z350;
 Thickness range: 1.5-3.0mm
 Maximum production speed: not less than 10 meters per minute (for non-perforated profiles, excluding cutting)
 Machine Voltage, Frequency, Phase:380 V, 50 Hz, 3Phase
 Roll station:14 stations
 Roller material:ASTM52100 chrome plated surface with hardness 58-62 degree ,CNC,
 Shaft diameter: ¢76mm material: SAE1045 with quenching and tempering
 Transmission: by chain, one inch, double line
 Roll former has leveling bolts in the base for adjust the leveling
 Machine base frame adopt H beam welding steel
 In the main roll forming machine have 2 buttons for urgency stop if happen any malfunction.
 Machine adopt iron cast as station to make machine in strong
 To avoid accidents,all of drive part adopt protect cover
 Color of machine: Blue and yellow (or base on customer request)