Product Description
89 CU profile light gauge steel framing machine

89 CU profile light gauge steel framing machine is synchronized with the performance of international advanced villa equipment, and some improvements have been made on the basis of international advanced villa equipment to make the unit more practical and durable. Compared with foreign similar equipment, first of all, our price is favorable and cost-effective.
The foreign units are about 1.5-200 million. Secondly, the overseas units are inconvenient for after-sales maintenance. The components that are normally worn out cannot be replaced in time. The post-sales convenience is convenient, and the problem is solved within 72 hours at the latest in all parts of the country.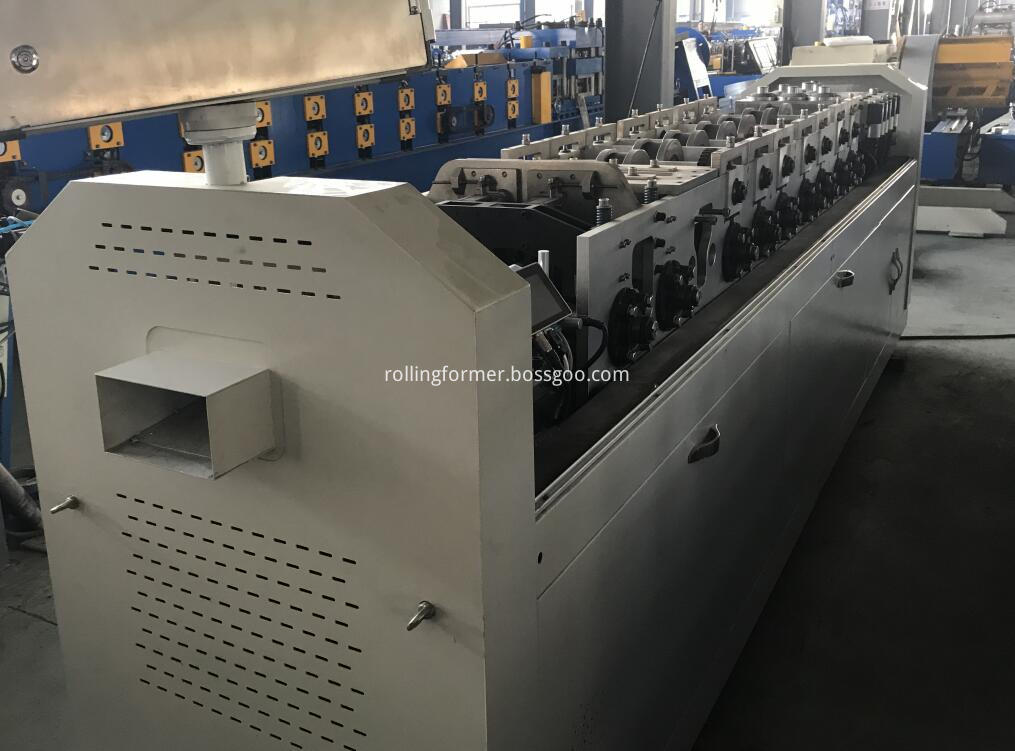 Compared with other domestic counterparts, Boguan light steel equipment has low energy consumption, servo motor power: 7.5KW; hydraulic motor power 3.75KW; high production efficiency: line speed 30m/min (punching speed: 15m/min), The unit intensively breaks the traditional molding concept, no card machine, less molding passes, regular product, small size and convenient transportation to the construction site.
The 89 CU profile light gauge steel framing machine is equipped with an encoder, which controls the host 1, the printer 2, and the printer 3. During the production process, the computer host only accepts one position signal, which ensures the accuracy of the hole position and the accuracy of the keel size.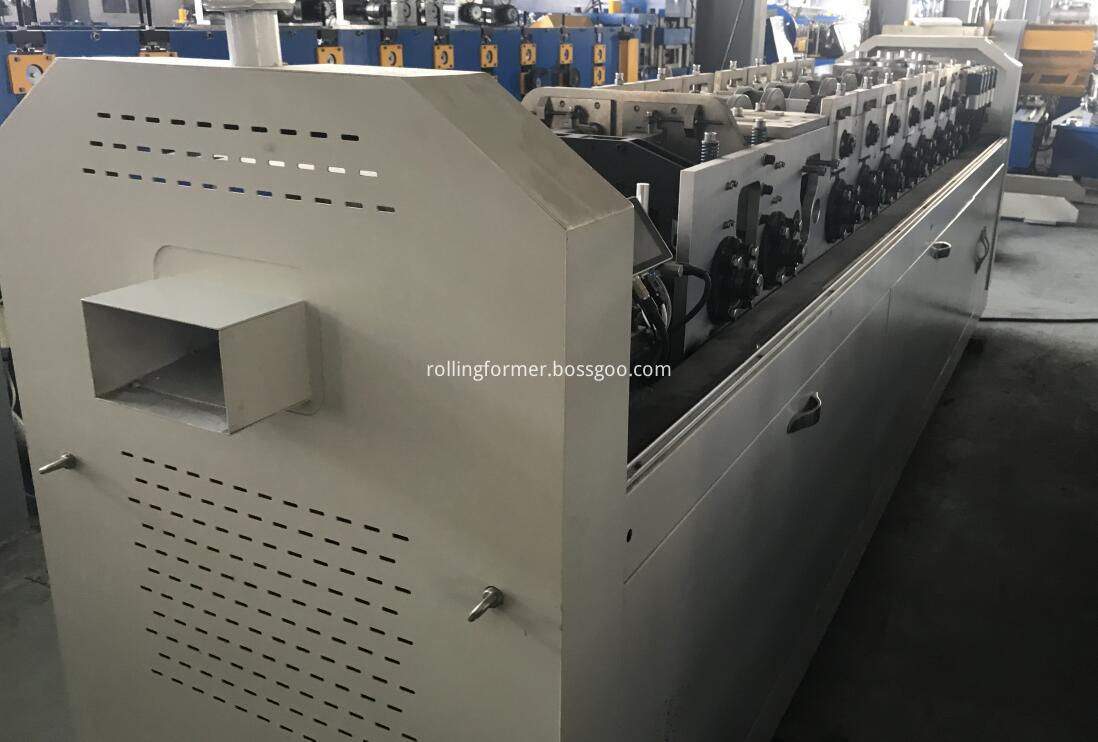 89 CU profile light gauge steel framing machine transmission is a chain synchronous transmission, which ensures the forming precision and the positional accuracy and dimensional accuracy of the hole positions such as punching, shearing, closing, rounding, nail hole and so on. Guaranteed to easily produce small size keels.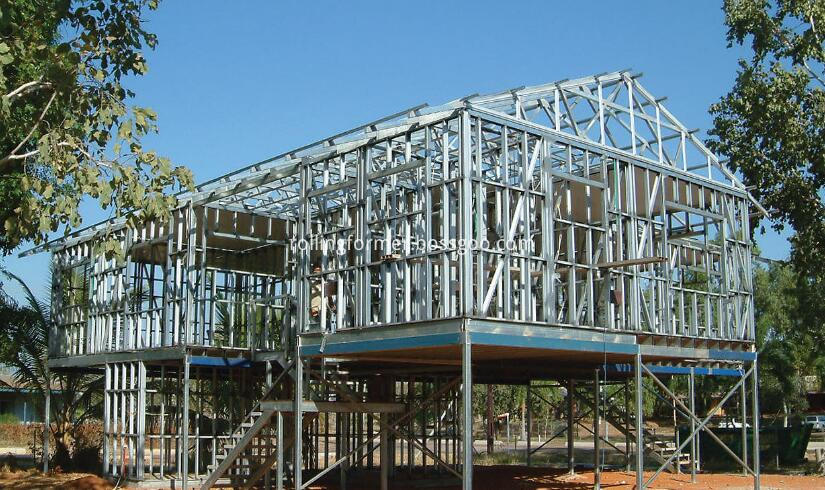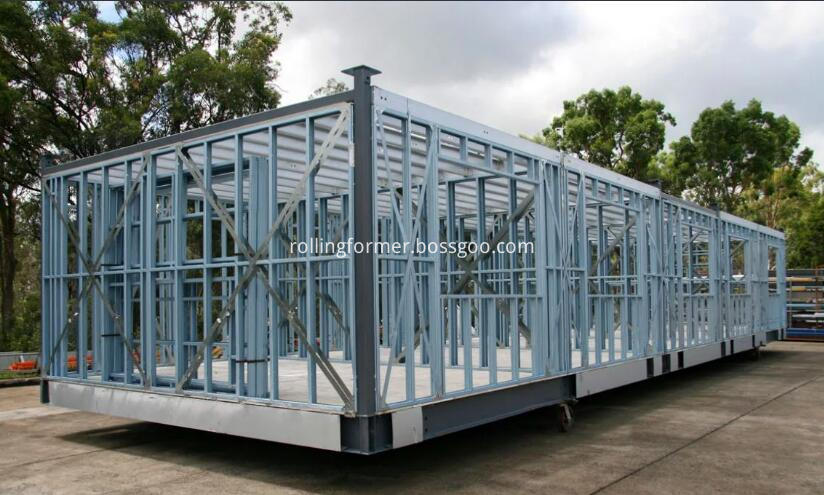 89 CU profile light gauge steel framing machine including below systems: De-coiler,Roll forming machine ( rollforming,punching and notching,inkjet),PLC system,transmission and hydraulic system,receiving table.
De-coiler, Carrying coils and rotating coils. It has a micro-brake device to prevent inertia from moving forward during an emergency stop. Drive mode: electric drive load weight: 3.0T. Inner diameter range: 430-590mm, Outer diameter requirement: 1300mm.


Rollformer: (forming, punching, slotting, inkjet printing)
CU profile roll forming part: used to gradually bend the strip in a certain order and gradually roll forming.
Total machine weight: 3T
Total length of the machine: 4m*0.8m*1.2m (length*width*height)
Molding pass: 8 sets of spindle roll forming, 4 sets of fine roll forming
Main drive mode: servo motor (7.5KW), self-locking function
High production speed: 52 m/min (depending on the number of punches and the length of the cut)
Roller material: imported material, DC53. CNC center machining, HRC58-62
Main shaft: 40Cr is quenched and tempered, finely ground
Frame and roof frame die punching: 8 stations (pipeline holes, web holes, small side cuts, fixed holes, chamfers, web shrinkage, shearing, nail socket bolt holes, etc.)
Inkjet printer: double nozzle, waist height on both sides, spray code content can be set.
Cutting method: hydraulic cut,
Blade material: imported material tungsten steel
Hydraulic power: 5.5KW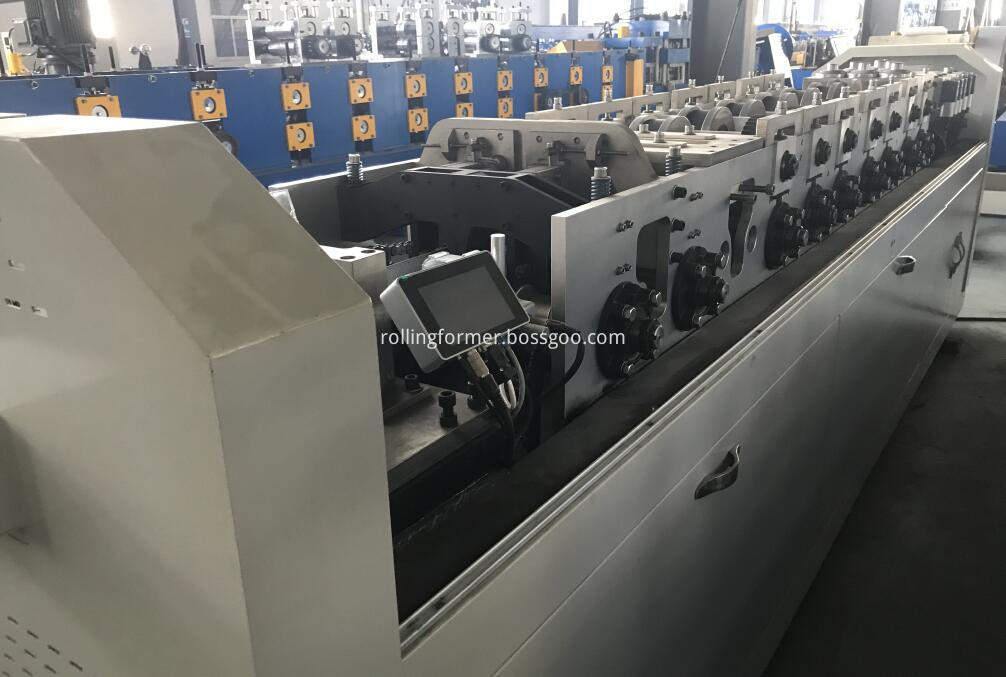 Control System:
Function: The design parameters are directly transmitted to the control computer through the USB interface or the network. The NC control software installed in the computer is imported and automatically reads the BOM documents. After the import, the batch produced can be selected.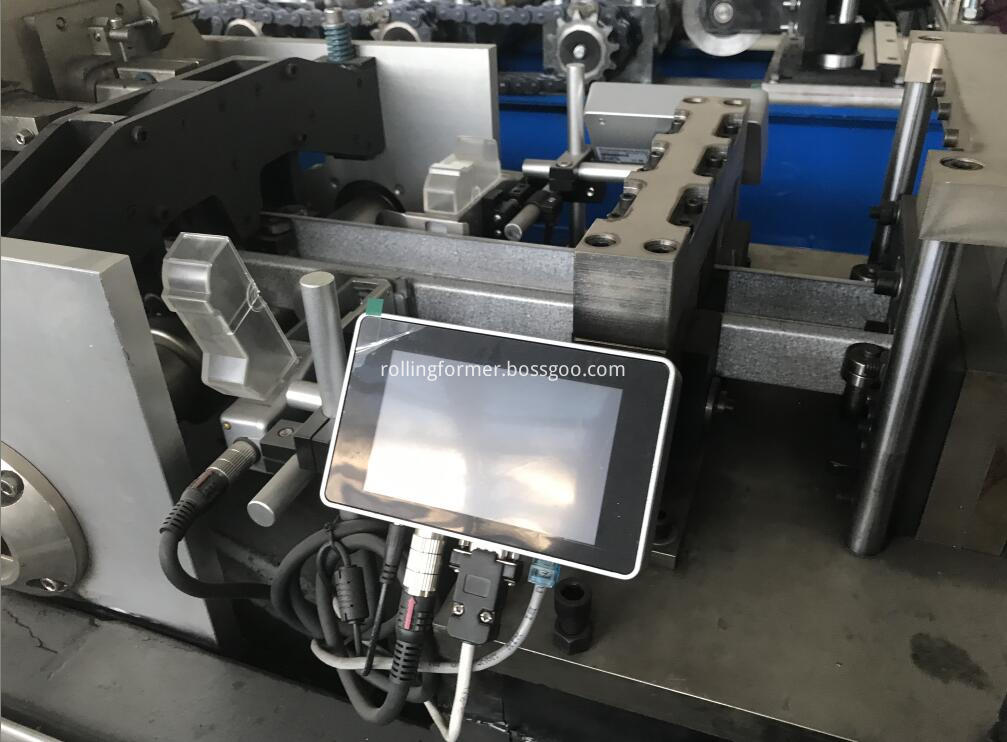 Voltage: 380V, 3 Phase 50HZ, or be customized designing according to custom local voltage.
Control method: 19-inch touch computer + electrical main control cabinet 1
External controller: set emergency stop button on the control box of the device
Main accessories Origin: PLC (Mitsubishi). Relay (Schneider, France), length encoder (OMRON), servo motor (INVIT)

User-supplied: the steam source, hydraulic oil, mechanical oil, wire and cable required for the equipment.
If you want to know more about the 89 CU profile light gauge steel framing machine, welcome send me an inquiry.